Talk about killer casting: Chuck MVP Yvonne Strahovski is joining Dexter's upcoming seventh season for a multi-episode arc.
She will play the role of Hannah McKay, a strong, independent woman with a past that she's struggled to put behind her. As a turn of events leads Miami Metro Homicide to ask for her help in solving some old cases, Dexter works with her and begins to wonder if there's more to this woman than she's professed.
Previously announced recurring players for Season 7 (premiering Sept. 30 at 9/8c) include Jason Gedrick, Rome's Ray Stevenson, and Swedish-born actress Katia Winter.
Strahovski recently completed work on two films, the Seth Rogen comedy Guilt Trip and the thriller I, Frankenstein opposite Aaron Eckhart.
Yvonne's new movies: more information
june 12, 2012 | posted by stephi | category: yvonne strahovski  |  no comments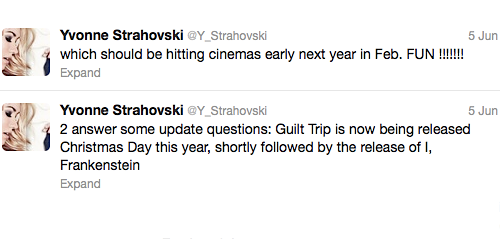 Chuck Star Zachary Levi To Play Fandral in Thor 2
june 12, 2012 | posted by stephi | category: zachary levi  |  no comments
"Chuck" star Zachary Levi is in talks to play Fandral in "Thor 2".
Joshua Dallas played the character, one of the Warriors Three, in the original movie last year but EW reports that his commitments on ABC's "Once Upon a Time" means the role needs to be re-cast ahead of the planned July shoot.
The Hollywood Reporter says Levi's talks are in the early stages but he is likely to land the role after Kenneth Branagh originally wanted him for the first movie but his own commitments on the now cancelled "Chuck" meant he had to turn down overtures. Strangely enough, Joshua Dallas was actually only cast in the role himself as a late replacement for Stuart Townsend, who exited the film in January 2010 over creative differences.
"Thor 2" will find Chris Hemsworth's Thor and Tom Hiddleston's villain Loki appear on our screens for the third time after the original movie and this year's "The Avengers".
Natalie Portman, Idris Elba, Jaimie Alexander and Anthony Hopkins are back for another outing, with more of the original cast expected to be confirmed soon, with Game of Thrones helmer Alan Taylor replacing Branagh behind the camera.
Mads Mikkelsen is in talks to play a new villain.
Written by Robert Rodat and Don Payne, "Thor 2″ is due November 15th, 2013 – the second movie on Marvel's upcoming slate after next May's "Iron Man 3″.
SOURCE
Say Goodbye to Mr. and Mrs. Spy
may 1, 2012 | posted by stephi | category: cast, chuck, interview, media, season 5,video  |  no comments
Unlock the "CHUCK Badge" in Zap2it's Rewards Challenge for your chance to win The Complete
Fifth and Final Season of Chuck on Blu-Ray or DVD plus a brand new Sony Blu-Ray Player
Share this special "Thank You Fans" video and be entered to win!
WATCH THE VIDEO HERE AND CLICK FOR MORE INFORMATION
Announcement
march 27, 2012 | posted by stephi | category: site  |  no comments
Expect Major Updates for the site's 3rd anniversairy – May 27th!
Spoiler Alert! Zach Levi Decodes Controversial Chuck Ending and Possible Film, Sam Jaeger Previews Parenthood Finale Twist and More!
february 24, 2012 | posted by admin | category: zachary levi  |  no comments
Did last month's Chuck swan song — particularly the ambiguous final scene between Zachary Levi's titular spy and his partner in life and crime Sarah — leave you hot and slightly bothered? Then you'll definitely want to check out this week's installment of Spoiler Alert!, during which Levi offers his own personal interpretation of the much-discussed closing sequence (hint: you're going to like what he has to say). The actor also talks for the first time about his just-announced TV comeback and offers an update on a possible (don't roll your eyes!) Chuck feature film.
And wait, there's more!
Levi's former Peacock colleague, Parenthood star Sam Jaeger, also drops by to mourn Joel and Julia's painful loss this past Tuesday and offer a preview of a surprising new direction the couple will embark on in next week's season finale (scroll down after Spoiler Alert! for an exclusive first look at a scene from the Season 3 closer).
And, of course, we've also got a new, altogether Psychotic, edition of Spoiler Alert Theater.
SOURCE
'Chuck' Star Zachary Levi To Topline Fox's Comedy Pilot 'Let It Go', Lifting Contingency
february 16, 2012 | posted by stephi | category: zachary levi  |  no comments
EXCLUSIVE: Zachary Levi is back on pilot duty and back on the half-hour comedy beat. The Chuck star has been tapped as the male lead of Fox's single-camera comedy pilot Let It Go, lifting the cast-contingency on the project. Let It Go, from Sony Pictures TV, is an ensemble comedy about a married couple, the husband played by Levi, his best friend and her sister as they try to navigate, negotiate and sometimes manipulate society's unspoken rules. DJ Nash wrote the script and is executive producing with Peter Tolan and Michael Wimer. This marks Levi's return to half-hour comedy series following his breakout role on ABC's Less Then Perfect. From it, he segued to spy dramedy Chuck, which just finished its five-season run on NBC. Levi was one of the most sought-after actors this pilot season, fielding at least half a dozen offers.
SOURCE
'Chuck: Seasons 1-5′ Blu-ray Set Dated
february 16, 2012 | posted by stephi | category: chuck, season 1, season 2, season 3,season 4, season 5  |  no comments
The complete series of the cult action comedy will be released on Blu-ray in May.
In an early announcement to retailers, Warner Brothers is set to release 'Chuck: Seasons 1-5′ on Blu-ray on May 8.
Chuck Bartowski, ace computer geek at the BuyMore, is not in his right mind. That's a good thing. Ever since he unwittingly downloaded stolen government secrets into his brain, action, excitement and a cool secret- agent girlfriend have entered his life. It's a bad thing, too. Because now Chuck is in danger 24/7.
The 19 disc set is expected to carry over the same specs and supplements as the individual season releases including: Declassified Scenes; Chuck's World – An inside look at character development and casting sessions; Chuck on Chuck – Series Stars Zachary Levi and Joshua Gomez join creators Josh Schwartz and Chris Fedek for some point/counterpoint; Chuck vs. the Chuckles – aka: The Gag Reel; and Chuck's Online World – a gallery of web originated mini-featurettes.
Suggested list price for the Blu-ray set is still undetermined at this time.
SOURCE
SOBE Commercial
february 10, 2012 | posted by stephi | category: video, yvonne strahovski  |  no comments
HQ Stills for 5.11, 5.12 and 5.13
february 1, 2012 | posted by stephi | category: chuck, gallery, season 5, stills  |  no comments
[05] 5.11 Chuck Versus The Bullet Train
[06] 5.12 Chuck Versus Sarah
[21] 5.13 Chuck Versus Goodbye
If you wanna use/upload these for/to your site, please credit chuck-media.org! Thank you!